Inclusion Vision
At Staplehurst School we have the highest levels of ambition for all our children, including those with additional needs. In order to achieve this, inclusion is at the heart of our classrooms. We believe that an exceptional school is an inclusive school. We recognise the need for all staff, children and parents to implement our inclusive ethos in the classroom and beyond, to meet the needs of our children. Our intent is for our children to achieve their aspirational academic goals, be safe, be healthy, enjoy life and grow up to be successful adults who will make a positive contribution to the society in which they live.
Our school welcomes all learners and is fully committed to providing them with the entitlement to succeed and reach the highest levels of personal achievement. Where children have addition needs, effective steps will be taken to prevent these from becoming a barrier to learning, with Quality First Teaching providing important scaffolding for children in class, alongside their peers. Sometimes additional bespoke intervention maybe required away from the classroom, but where this is the case, the class teacher will ensure this is high quality, closely monitored and that skills are transferred to class tasks.
We encourage children and parents to actively participate in the decisions which support learning for those with additional needs. We consider these needs very carefully, and, through careful planning and interaction with our knowledge rich curriculum approach, define what success looks like. This allows us to ensure the highest aspirations, and that we keep supporting children to make the progress they deserve.
We believe all our children, regardless of age, gender, ethnicity, special needs, attainment and background, will receive an equal opportunity to engage with a knowledge rich and inclusive curriculum, in order to achieve good levels of wellbeing and enjoy the rewards of reaching their full academic potential.
The Inclusion Team:
Vicky French, Assistant Head for Inclusion
I am the Assistant Head for Inclusion. I have worked in Primary schools for over 25 years, with the past ten years in the Special Needs Co ordinator role. In addition to this role at Staplehurst, I am also a Deputy Designated Safeguarding Lead and part of the Senior Leadership Team. I oversee all aspects of Inclusion, from being the strategic lead, developing staff knowledge and skills, to supporting staff, children and parents. I work closely with both our FLO and Pupil Premium Champion and other outside agencies. My intent is to ensure that barriers to learning are removed, so that all of our children are able to access a broad, ambitious and knowledge rich curriculum, with high quality, engaging teaching that supports their individual academic progress and wellbeing.
I am in school every Monday, Tuesday and Wednesday.
Alyson Burchell – Family Liaison Officer
My intent as the Family Liaison Officer within the school is to provide support, information and education attendance advice to parents and carers of children attending our school. My aim is to remove potential barriers, establishing good relationships with all our families and encouraging parental involvement in school life.
As the FLO I am also available to offer meetings with individual parents when family issues and difficulties arise, offering advice and signposting families to identified support agencies eg dealing with behaviour issues at home, bereavement, counselling services. I also offer "Time to Talk" to our pupils to support anxiety and wellbeing issues.
I am a Deputy Designated Safeguarding Lead and work alongside Senior Leadership Team in this capacity and I'm in school every Tuesday, Wednesday, Thursday and Friday.
As a school, we strive to ensure our intent at Staplehurst School is for every child, no matter their background, has equal opportunities to reach their full potential academically and emotionally. We endeavour to provide all children with a broad and ambitious curriculum, where children's wellbeing is at the heart of everything we do. We are committed to narrowing any identified gaps in attainment between pupils. We tailor our provision to meet the individual needs through quality first teaching, precision teaching and bespoke interventions. We are taking steps to build on our knowledge rich curriculum.
Alongside a well taught knowledge rich curriculum, at Staplehurst School, we work with our staff to significantly enhance the engagement of parents and carers of our most vulnerable children.
https://www.kelsi.org.uk/special-education-needs/special-educational-needs
Local Inclusion Statement:
'The purpose of this statement of Inclusion is to set out our collective ambition and values for inclusion (in Kent). It aims to reflect the partnership working between schools, settings and KCC in developing a child centred approach to SEND across Kent, ensuring that all partners are equally and effectively inclusive, and to follow both the spirit and the letter of the law with inclusive values. It will form the working vision for the development of the County Approach to Inclusive Education.'
https://www.kelsi.org.uk/special-education-needs/inclusion/inclusion-statement
SEND strategy
The aim of the SEND strategy is to improve the educational, health and emotional wellbeing outcomes for all of Kent's children and young people with special educational needs and those who are disabled.
This strategy incorporates the Accessibility Strategy (under paragraph 1 schedule 10 of the Equality Act 2012).
https://www.kent.gov.uk/education-and-children/special-educational-needs/send-strategy/strategy-for-children-with-special-educational-needs-and-disabilities
SEND Links:
Mainstream Core Standards
Mainstream Core Standards – Guide for Parents
The Mainstream Core Standards outline the provision that the local area expects to be made available for children and young people with Special Educational Needs and/or disabilities attending mainstream schools. They include guidance for schools, parents and carers and professionals working with children and young people.
https://www.kelsi.org.uk/special-education-needs/special-educational-needs/the-mainstream-core-standards
The visual below outlines the graduated approach use to identify and support children with additional needs: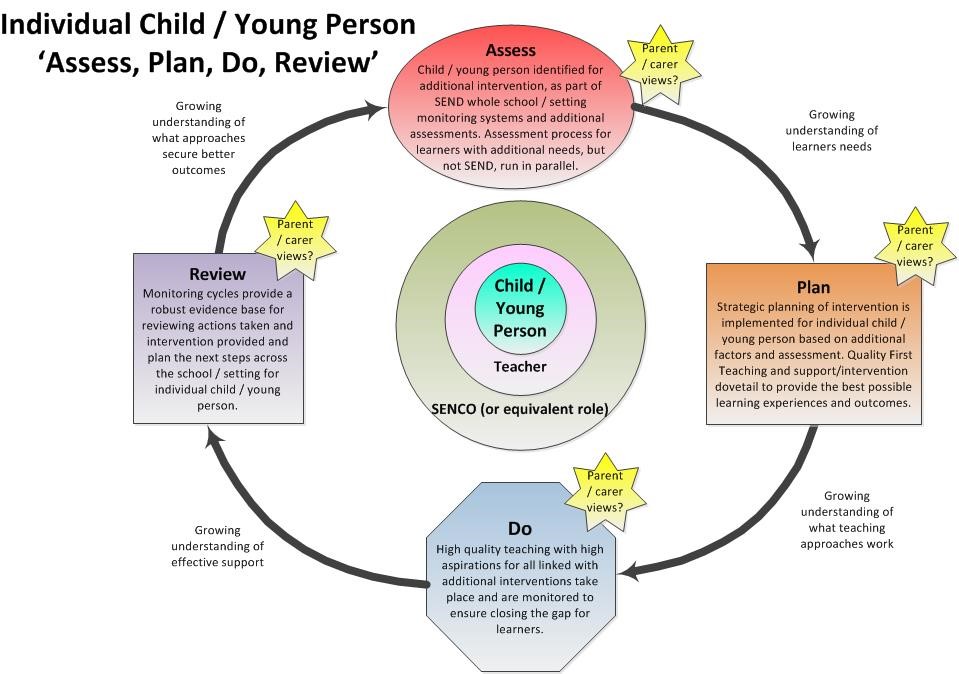 Blended learning SEND Provision
SEN Support children will be supported by their teachers with learning activities that are adapted to enable them to complete tasks independently.
Parents of SEN Support children at home in a Tier 2 'Positive Case and Bubble Closure' for 2 weeks, or Tier 3 'lockdown', will be regularly contacted by AHTI/FLO. In addition, parents are encouraged to contact their class teacher or Inclusion team if they require any additional support via email or phone.
TAs will support SEN Support children by creating packs of visual and manipulative resources (eg word banks, 100 square, counters, task board) to be sent home, including any precision teaching resources (eg flash cards). These may need to be delivered by AHTI/SLT if not collected.
Helpful Links:
https://www.bdadyslexia.org.uk/
British Dyslexia Association
https://www.callscotland.org.uk/downloads/posters-and-leaflets/ipad-apps-for-learners-with-dyslexia/
Helpful Apps for students with Dyslexia
Autism Spectrum Condition:
https://www.autism.org.uk/ Autism UK
https://www.scottishautism.org/new-struan-school/sites/default/files/nss_autism_app_wheel.pdf
Helpful Apps for children with ASC.
http://www.fiveacrewood.co.uk/wp-content/uploads/2020/03/Attention-Autism.pdf
Developing attention and listening skills
http://www.fiveacrewood.co.uk/wp-content/uploads/2020/05/top_tips_for_understanding_adhd_and_supporting_children_in_the_classroom_ni.pdf
Top tips for understanding ADHD and supporting children in the classroom.
https://www.adhdfoundation.org.uk/parents/
ADHD resources for parents
Online Safety for children with SEN:
https://www.youtube.com/watch?v=ecr6OJmT3Mg
You tube video for SEN children – Keeping safe online
https://www.childnet.com/resources/kia/know-it-all-for-teachers-sen/symbols-based-smart-rules
SMART rules symbols – Keeping safe online
Mental Health and Wellbeing
Please see our separate Mental Health and Wellbeing webpage for further guidance and support.
For information on the following services and contact details please follow the links below:
Community Paediatricians
https://www.kentcht.nhs.uk/service/community-paediatrics/
Occupational Health / Physiotherapy
https://www.kentcht.nhs.uk/childrens-therapies-the-pod/
Speech & Language Therapy Service
https://www.kentcht.nhs.uk/childrens-therapies-the-pod/speech-and-language-therapy/
Education Health and Care Plans:
Information and guidance to support applications for an assessment for an EHCP.
https://www.kelsi.org.uk/special-education-needs/special-educational-needs/education-health-and-social-care-plans